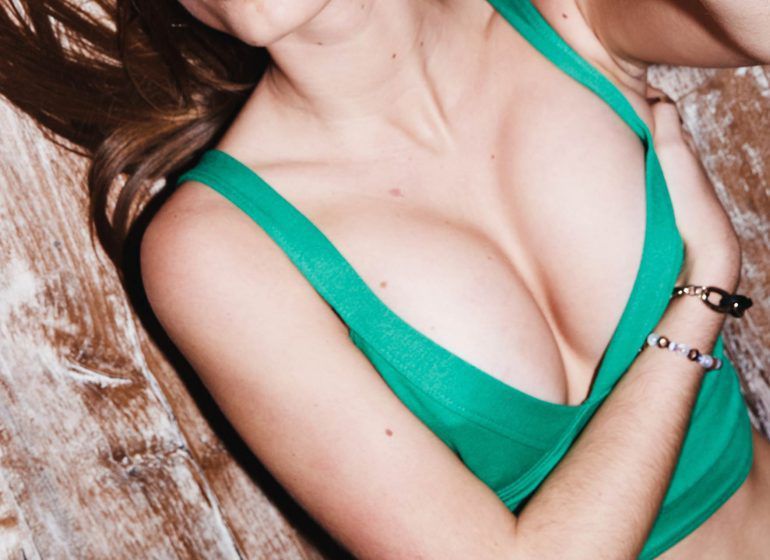 A
breast augmentation
, or boob job, has long been a popular procedure for women, and certainly one of the most popular topics on RealSelf. While implants have been the traditional method for getting a larger bustline, one technique has been gaining some surprising new ground the last couple years:
breast fat transfer
.
In fact, using one's own fat in the breasts was up
41 percent
in 2016 over 2015, according to the American Society for Aesthetic Plastic Surgery (ASAPS). By comparison, breast augmentation with implants increased only by 1.5 percent over that same time period.
So, why are women trending toward breast fat transfer now?
We asked experts on RealSelf why breast fat transfer is becoming a go-to technique for a boob job. Here are seven reasons why breast fat transfer is taking over.
1. Natural is in
The era of big, round breasts is over. Soft, natural-looking breasts are in. While it's possible to get a mostly natural look from implants, there's nothing closer to real than your own fat tissue.
"Aesthetic trends change slowly over time, and I have noticed in my practice that more women are requesting more natural-looking breasts and are choosing more modestly sized implants," says
Dr. David Sieber
, a San Francisco physician.
2. Fewer risks
While breast augmentation is generally a safe procedure, introducing any foreign objects into the body involves some risk. Some people may be more susceptible to complications than others, but it really depends on many factors, including your plastic surgeon and your body.
"
The areas where the fat is harvested become sculpted and restore more natural curves, while the breasts are enhanced without introducing a foreign body," says

Dr. Richard Moore, a Saint Louis, Missouri, physician. "
Many women want to avoid implants due to the risks of encapsulation, leakage and the need for future surgery should they need to be removed or replaced."
A
reviewer on RealSelf
tells us why she chose breast fat transfer over implants: "I had numerous issues with my implants after breastfeeding and having my child. I had galactoceles [milk-filled cysts] and
encapsulated implants
from a renowned Beverly Hills plastic surgeon. I decided I was done with any implants and wanted a fat transfer to my breasts."
3. Avoid a larger scar
Aside from choosing the size of an implant, one of the biggest decisions in breast augmentation concerns scars. With an average incision length of three to five centimeters for breast implants, it's likely there will be a noticeable scar.
Breast fat transfer, however, has little to no risk of scarring.
"There is no scar on the breast, unlike breast implants, as fat is injected through a small, three-millimeter incision in the axilla [armpit]," says
Dr. Karthik Ram
, a plastic surgeon in India.
4. Liposuction is an added bonus
Suffering from stubborn belly fat or love handles that are offering up a bit too much love? That's the great thing about breast fat transfer — you use your own fat from just about any part of the body.
"As an added bonus,
liposuction
is performed as a part of the procedure to harvest the fat, which means stubborn areas of fat can also be addressed at the same time," says Sieber.
"I wanted a bigger breast cup size without implants," says one
reviewer on RealSelf
. "The option of a fat transfer was offered by liposuctioning unwanted fat and transferring it to the breast area."
"I thought that was a great idea — get rid of the love handles and thunder thighs and get larger breasts," she continues. "After my procedure, I was very pleased with the results. My abs had definition, my thighs were slimmer, and I went from a C cup to a DDD cup."
5. No upkeep
6. You can build your breast size
Worried about going too big? With breast fat transfer, you can start small and work your way to your ideal size without having multiple surgeries.
"It's natural, safe, and if you do a series of treatments, you can build the breast size and lift it without any surgery," says
Dr. Jason Emer
, a Los Angeles dermatologic surgeon. "It has minimal risk when used properly, and when combined with
PRP
and stem cells or
Sculptra
, it can build naturally over time, and you can enhance its survival."
7. You can combine implants and fat transfer
For thinner women who don't have enough fat to reach their desired size, implants plus fat transfer may be an ideal solution. If you already have implants, breast fat transfer can be used to contour the overall shape of the breast and make the implants appear more natural.
"I don't have a ton of fat on my body. I'm 5 feet 7 inches and 117 pounds," says one
reviewer on RealSelf
. "I decided to go with a small implant, 240
cubic centimeters, high profile,
with approximately 130 cubic centimeters of fat on top of the implant and on the sides to improve cleavage and sideboob while camouflaging the implants."
The downside
While breast fat transfer has some amazing advantages, no procedure is perfect.
"The main disadvantage with fat fill is the absorption of fat — nearly 30 to 40 percent post procedure," says Ram. "More than one sitting may be required to achieve the desired size."
Ready to contact an expert?

Find a doctor

near you today at info@bestbreastsurgeryindia.com | info@themedspa.us
Source: https://blog.realself.com/2018/03/12/breast-fat-transfer/