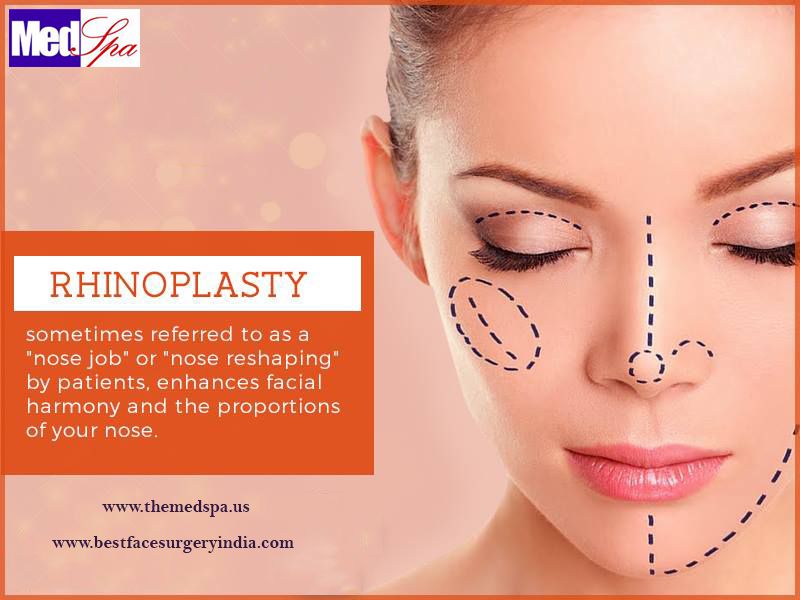 What is Rhinoplasty?
In common man's terms, it is what you call "the nose job". Often we have heard actresses and celebs "going under the knife" to get a "nose job" done. Infact when some surgeries go wrong and we notice the abysmal difference in the celeb's face and then we find out.. Oh! She has done a surgery on her nose. That is exactly what you call Rhinoplasty in medical terms.
What is the procedure about?
Is your nose small, large, not aligned with the upper lip, the tip of the nose is too flat, there is bump.. Whatever be the complain, Rhinoplasty restores the kind of nose for you that you have always wished. Surgeon identifies the area to be altered and makes incisions on bones and cartilages of the nose. Artificial materials are inserted as fillers to remove excessive cartilages or muscles. The layers of the skin are added carefully. Most of the incisions are done from inside the nose so as to avoid chances of marks on the outer part of the nose.
How is it different from Cleft lip surgery?
Do not confuse Rhinoplasty with Cleft Lip surgery. You might be familiar with cleft lip surgeries thanks to the Smile Pinky operation conducted in India which was a Samaritan act. Though Rhinoplasty covers the internal functioning problems also, it does not deal with the corrections required for the problem of cleft lips. Cleft Lip surgeries are entirely different and are not reckoned as cosmetic surgery as is Rhinoplasty.
Is Rhinoplasty a solution for structural or breathing problems?
Rhinoplasty corrects problems other than "I wish my nose was as beautiful as Aishwarya Rai's "problem. Yes, the candidates for nose job are not simply those girls who wish to have noses like their favorite celebrities. Sometimes breathing ability of the nose is improved with this surgery. The veins and cartilages of the nose are better aligned with surgical measures. There are people who have gone under the knife for both aesthetics and health reasons.
What is SIMON Syndrome?
Dr. Ajaya Kashyap, a Consultant Plastic Surgeon and founder of Kas Medical Center shares about the SIMON syndrome. The extension for SIMON is single Immature Male Over expectant and narcissist. It is a rare condition found in men in which they are obsessed with their own facial and physical features and tend to go to the doctor again and again to make alterations. With very less chances that they will ever be satisfied.
How much popular this surgery is?
Dr. Ajaya Kashyap has as experience of treating over 25,000 patients with rhinoplasty Surgeries. Having performed Rhinoplasty for celebs, he opines that a thorough physical examination of the patient's physical and psychological conditions is a must. Psychological well being is crucial as this kind of surgery deals with the face. This is crucial for a person's mental health. Few patients return for corrections after the surgery which is not uncommon problem for surgeries. This makes all pre surgery examination and planning all the more important.
Find out More:
Best Lip Augmentation in Delhi at Low Cost
India's Best Plastic Surgeon for Nose Surgery
Cosmetic Surgeon for Eyelid or Blepharoplasty Surgery in Delhi
Feel free to contact us at www.bestfacesurgeryindia.com